Structural Concrete
Commercial Services Statewide. Residential Services in the Mat-Su Valley, Eagle River & Anchorage.
Sometimes in business, you bump into something that simply resonates.
That's what concrete is for Falcon Alaska. We've found that we enjoy it, we're good at it, and it adds value for our clients. Our specialty tools, equipment and dedicated crews allow us to provide concrete services for new construction projects throughout the state of Alaska.
Email bid requests to GrantH@falconalaska.com or call 907-745-3865 to schedule a consultation with one of our concrete specialists.
Residential Foundations, Slabs & Patios
The most structurally important part of a home is the concrete foundation it sits on. Falcon's highly skilled team can expertly pour solid foundations for single-family homes and multi-family projects. We're your full-service concrete contractor.
Commercial Concrete Services
Whether remote or on the road system, if you need mono slabs, retaining walls, cell tower bases or foundations for an entire commercial complex, Falcon Alaska can meet your needs statewide.
We don't just pour concrete — we also help analyze the build site and keep your project within budget. We work best with general contractors that are looking for a trustworthy and highly motivated team. We provide exceptional value, straightforward communication, dependable scheduling, and onsite solutions.
Choose Falcon Alaska for Structural Concrete Services
In recent years, Falcon Alaska has completed hundreds of concrete projects throughout the state of Alaska. Recent work on and off the road system includes projects in Eagle River, Anchorage, Big Lake, Houston, Sutton, Girdwood, Paxon, Circle, Kodiak, Fort Yukon, Wainwright, Petersburg, Ketchikan, and Homer.
From traditional residential foundations to large-scale commercial projects, we're confident we can fulfill your structural concrete needs on time and on budget.
Email bid requests to GrantH@FalconAlaska.com or call 907-745-3865 to schedule a consultation with one of our concrete specialists.
Frequently Asked Questions
What are the key differences between architectural and structural concrete?
While both require durability and quality, architectural concrete focuses on aesthetics and often incorporates decorative elements, colors, and textures.
Structural concrete prioritizes strength and load-bearing capacity, providing the necessary support for a building's structure.
Balancing architectural and structural concrete is vital to producing a successful and visually pleasing build.
What's the process for structural concrete construction?
Structural concrete projects start with site preparation, including excavation and leveling. Formwork is then erected to define a concrete structure's shape and dimensions. Reinforcement, such as steel bars or mesh, is installed to enhance strength.
Next, concrete is poured into the formwork, ensuring proper compaction and consolidation. After the concrete cures, the formwork is removed, and finishing touches, such as coatings or surface treatments, can be applied. Finally, the structure is inspected and tested to ensure it meets safety and quality standards.
What are the different types of loads that affect structural design?
Structural design must factor in various load types that affect a building or structure. Dead loads are a structure's permanent weight and any fixed components. Live loads are temporary and include the weight of people, furniture, and equipment.
Environmental loads are the forces exerted on a structure due to atmospheric conditions and natural elements. Careful consideration of snow and wind conditions is vital for safe and resilient structural design in Alaska.
Testimonials
THEY DELIVER WHAT THEY PROMISE
Jon & Jamie Coon
Having our home built by the Wirtanen Custom Homes (now known as Falcon Alaska) was an amazing process. From the very start to the final finishing touches, the building process was a pleasant, engaging, and enjoyable experience. Steven and Arliss were great at developing a vision for the project and executing on the details.
Not only are the Wirtanens enjoyable to work with as people, they use user friendly computer software to help their clients visualize the finished product and provide constant status updates throughout the project. The "custom" detail of our house speaks volumes for the craftsmanship that Wirtanen Custom Homes creates. We would recommend anybody who's considering building a custom home to work with Wirtanen Custom Homes. A quality, locally based Alaskan company, they deliver what they promise and do fantastic work.
WE MADE THE RIGHT DECISION
Steve Roushar
After spending several years and countless hours looking for a larger home with some acreage for a reasonable price my wife and I decided we would be better off keeping our home and adding on. There are a lot of horror stories of contractors in Alaska and we did not want to be another customer with an unsatisfactory impression through the building process and end up spending money to have regrets. So we wanted to make sure that the contractor we hired was honest, ethical and had the knowledge and experience to complete this large addition.
Everyone kept telling us to check out Wirtanen Homes. Fortunately, one of my friends had contracted with Wirtanen so we went and looked at his project. We were surprised and impressed with the workmanship and quality work that Wirtanen had done at his home. When we were confident that the addition was exactly what we wanted, they started the project almost immediately. Wirtanen crews were exemplary. Our questions and any concerns were always answered timely. In a short few weeks we had the addition we had envisioned and it was grander than we had hope for. We would not hesitate to use Wirtanen Homes in the future and have and will continue to recommend them to all of our friends and family.
QUALITY, ATTENTION TO DETAIL & PROFESSIONALISM
Zach & Becky Bell
We are so happy that we went with Wirtanen Custom Homes . Going into building we had a floor concept that we already had in mind. Knowing that, we knew we didn't want to go with a contractor that did not specialize in custom homes.
Before deciding to go with Wirtanen Custom Homes we also spoke with a couple of other independent contractors. Although we were impressed with their quality of building we did not want to worry about the hassle of taking out a building loan ourselves. With Wirtanen Custom Homes being able to carry the construction loan, it was one less step of the building process that we didn't have to worry about. Also, we felt that Wirtanen Custom Homes was the only contractor that we met with that really stayed true to our original design without trying to push floor plans that they had built in the past.
We are greatly satisfied with the quality, attention to detail, and professionalism with Wirtanen Custom Homes. Their "standards" package already had built into it many features that other builders would consider as extras that we wanted incorporated into the house. Being a family with younger children, durability was a big priority to us. The quality of craftsmanship and product has certainly met our expectations.
I CAN'T SAY ENOUGH GOOD THINGS
Sean & Sue McGilvray
I can't say enough good things about our experience with Wirtanen Homes building our dream home in Alaska. What I thought would be an overwhelming undertaking considering we were doing this from out of state was made so much easier by Wirtanen and their building process.
Everything went as explained, in order as they said and in a very transparent and organized manner. For us the real game changer was the 'Builder Trend' client site that they provide. It laid everything out front for your project for all of the building aspects and most importantly for us…..we saw a running total on the costs of the project as it progressed. There were no surprises and we were fully aware of any additional costs caused by upgrades that we chose because we had to sign them off before Wirtanen would go forward with these changes. Again, I don't know how it could have gone any better thanks to the whole Wirtanen team that we dealt with including Steven, Arliss, Ryan our Project Manager and Karen at the front desk. It truly felt like we were treated like more than just another client!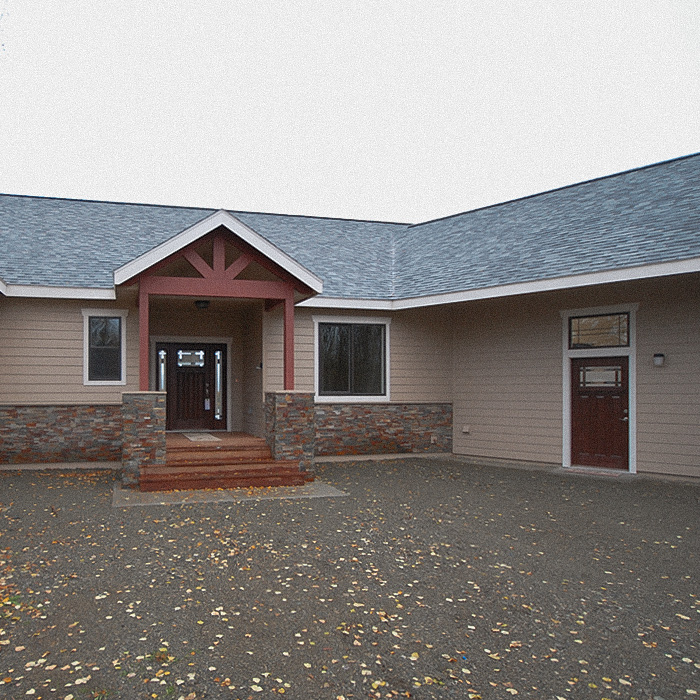 EXCEPTIONAL TO WORK WITH
Bonnie Honkola & Larry Junker
We love our custom Wirtanen home. We had purchased our lot 25 years ago, and had a lifetime of dreams in folders and in our head as to what we wanted. Taking these many ideas, photos, thoughts to exactly what we wanted was not the easiest task! From conception to completion, Steven and his top notch crew were exceptional to work with. All aspects of the process were seamless. We had heard that building a custom home would be difficult & challenging, but Wirtanen brought a level of professionalism and understanding that made the process a pleasure.
As in all complex projects, there were a few things that needed to be tweaked after the keys were turned over and this is where Wirtanen shined. They listened to our concerns and made everything right. We would not hesitate to recommend Wirtanen to anyone interested in a custom home. Wirtanen earned our respect and admiration and we are so glad we chose them to build our dream home.
THE HOME IS AMAZING
John & Denise Evey
We highly recommend Wirtanen. My wife and I searched the market for a house that would accommodate my wife and kids along with an additional space for friends and family, to no avail. In our search, we walked through a ten year old Wirtanen home that seemed brand new…no creaks in the floors or stairs, and even temperatures throughout the home. The craftsmanship of this home led us to contact Wirtanen. From helping choose the land (walking properties and assessing the ground), through the complete design of the home, Wirtanen's insight and know-how helped forge the house of our dreams. They kept us involved with every step of the build, and overcame every obstacle. If something didn't look right to us or to them, they made it right. They also finished when they said they would. Furthermore, their up-to-date online scheduling let us know what and when our selections were due and relieved most of the stress you hear about amongst couples building a home. We've lived here a year now. The home is amazing. Our last place was almost half the size and cost more in heating and electric. Plus, we have a solid home that has zero cold spots in the winter and stayed amazingly cool during a very warm summer. My respect and appreciation for the Wirtanen clan knows no bounds. If you are in the market for a custom home, give Wirtanen a call.
THEIR CRAFTSMANSHIP IS EXCEPTIONAL
Chris & Jamie Popham
We highly recommend Wirtanen. My wife and I searched the market for a More happy clients! Wirtanen Inc. turned the overwhelming home building experience into a real pleasure for us. So many decisions go into a custom home.. Wirtanen laid these out in steps that kept stress levels to a minimum. Thanks to their patience and communication, as well as their technological approach to home building, our vision for the final product was delivered upon completely. On time, and at a price we feel was very reasonable. We can't recommend them more highly as they are easy to work with, honest, and their craftsmanship is exceptional. It was a great experience that gave us exactly what we wanted, and we wouldn't hesitate to do it again.
ENERGY EFFICIENT AND A JOY TO LIVE IN
William Wise
After talking to several builders and having three sets of plans drawn up we finally discovered Wirtanen Homes. Steven designed and built us a wonderful home that is also energy efficient and a joy to live in. In floor heat, triple pane windows and spray foam insulation were the focus from the start but adding in a geothermal heating system just rounded out the package. In the last year three of my coworkers have had houses built and they all complained about their builders not following through in one form or another and I have told anyone who would listen that if I were building again I would build with Steven Wirtanen, because Steven does what he says he will do, when he says he will do it. Even when it is not convenient for him.
I CONTINUALLY RECOMMEND THEM
The Hooks Family
After talking to several builders and having three sets of plans drawn up we finally discovered Wirtanen Homes. Steven designed and built us a These guys are great to work with and I continually recommend them to any of our friends that are looking for a QUALITY builder. Their honesty and integrity made the whole experience wonderful!! Thanks guys!